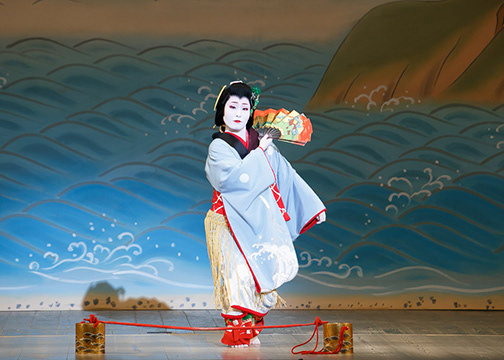 Yasuko Inoue was born in 1988. Her father is Tetsunojou Kanze IX, successor to the Kanze school of Noh, and her mother is Yachiyo Inoue, the fifth generation Master of the Inoue School of Kyomai, Kyoto. At the tender age of two, Yasuko began training at the Inoue School of Kyomai under her great-grandmother, Yachiyo Inoue IV, and her mother, Yachiyo Inoue V.
She made her stage debut at the age of three in the Kamigata piece, Shichi Fuku-jin, for Yachiyo Inoue IV's 88th Birthday Celebrations.
In 2006, at the age of just seventeen, Yasuko Inoue was named the successor to the Inoue School of Kyomai. In 2011, she graduated from the Kyoto University of Art and Design and is currently a special instructor there.
Inoue started her own dance organisation, "Yoyo no Kai," in 2013 and two years later she became a dance instructor at the Yasaka Nyokoba Gakuen, an institution run by the Gion Girls' Art School. In addition, she is a member of the Japanese Classical Dance Association (Nihon Buyou Kyokai).
京舞井上流五世家元井上八千代の長女として京都に生まれる。
1992年 「四世井上八千代米寿の会」にて初舞台(上方唄「七福神」)。
2013年 井上安寿子主催の京舞公演 葉々(ようよう)の会を発足。第50回なにわ芸術祭 新進舞踊家競演会において新人賞受賞。
2015年より学校法人八坂女紅場学園の舞踊科教師に就任。
京都市芸術新人賞、伝統文化ポーラ賞奨励賞、東京新聞第1回日本舞踊新鋭賞受賞。