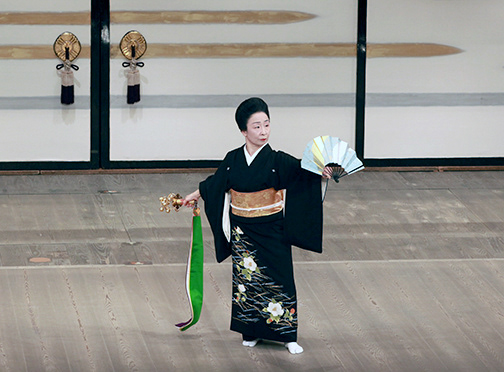 Born in Kyoto, Yachiyo Inoue is the fifth generation Master of the traditional Inoue School of Kyomai and Ningen Kokuhō. She is also a Living National Treasure, a certification granted in Japan by the Japanese government Ministery (Jūyō Mukei Bunkazai Hojisha) for individuals who have attained an exceptional mastery of an art or craft.
Yachiyo Inoue's father, Yusetsu Katayama, was the successor to the prestigious Kanze school of Noh and Ningen Kokuhō. Yachiyo Inoue herself began training in 1959 at the Inoue School of Kyomai under the guidance of her grandmother, Master Yachiyo Inoue IV, also of the  Ningen Kokuhō.
By 1970, Yachiyo Inoue was the Master of the Inoue school of Kyomai and in 1975 she became an instructor at the Yasaka Nyokoba Gakuen, an institution run by the Gion Girls' Art school. In 1999 Yachiyo Inoue received the Education Minister's Prize for Selected Art for her performing dance skills and, in the same year, she was awarded the Japan Art Academy Prize.  
In 2000 she inherited the title of Yachiyo Inoue V by succeeding her grandmother Yachiyo Inoue IV. Amongst other prestigious prizes, Yachoyo Inoue was awarded the Medal of Honor (purple ribbon) in 2013 and in 2015 she became Important Intangible Cultural Property (Mukei Bunkazai). This is more commonly referred as Ningen Kokuhō, or Living National Treasure.
She is a member of the Japan Art Academy and Executive Director of the Japanese Classical Dance Association.
京舞井上流五世家元。観世流能楽師片山幽雪(九世片山九郎右衛門・人間国宝)の長女として京都に生まれる。祖母井上愛子(四世井上八千代・人間国宝)に師事。1959年井上流入門。1970年井上流名取となる。1975年学校法人「八坂女紅場学園」(祇園女子技芸学校)の舞踊科教師になる。1999年芸術選奨文部大臣賞。同年、日本芸術院賞受賞。2000年五世井上八千代を襲名。2013年紫綬褒章を受章。2015年重要無形文化財保持者に認定。日本芸術院会員。公益社団法人日本舞踊協会 常任理事。